2016 auto sales off to a strong start
[vc_row 0=""][vc_column][vc_column_text 0=""]
The new year isn't even three months old, yet auto sales have already performed beyond practically all expectations. Due to low gas prices, accessible credit, and a gradually improving economy, this year has made it a great time to be car shopping.
In January, massive snowstorms on the East Coast had little effect on auto sales, which according to Reuters were down only 0.3 percent, rather than the 0.5 to 5 percent decline expected. Overall, last month's sales were 17.58 million on a seasonally adjusted annualized basis. To put it more simply, that's how many cars the auto industry expects to sell in 2016 given January's performance.
Analysts are updating their projections now that February's sales data has begun to roll in. By all accounts, 2016 is off to a very strong start.
February sales projections
New vehicle sales in February 2016 are set to improve a solid 8.1 percent over one year ago, a monthly sales forecast from J.D. Power and LMC Automotive reported. Total sales are projected to reach nearly 1.05 million this month. That's more than 78,000 units higher than were sold in February 2015.
Additionally, February 2016 won't see an improvement just because of the extra day that the Leap Year is providing. Both months had the same number of selling days, so the improvement doesn't come with an asterisk beside it. There were other factors involved though.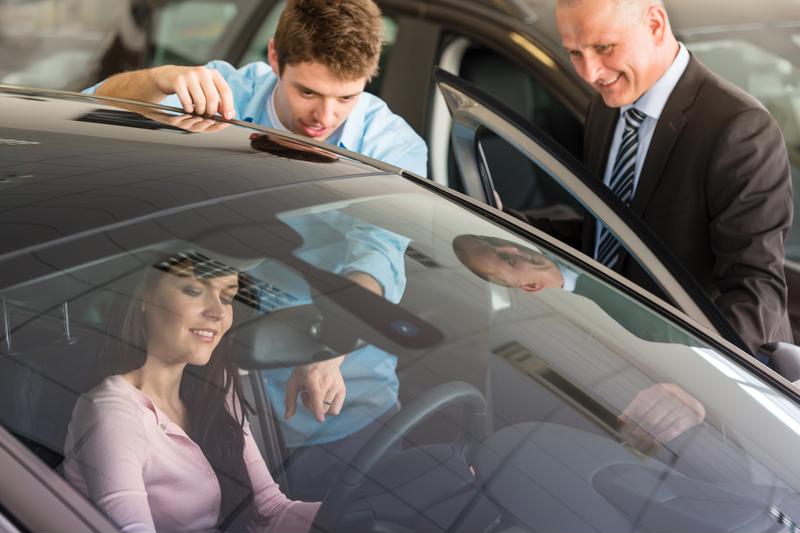 "To further put the February sales projection into context, while the retail SAAR of 13.9 million is unquestionably a high level of vehicle demand, it is the lowest monthly level since last June and well below the 15.3 million pace last September," Humphrey continued."The year-over-year sales growth projection for February is strong, but we need to keep in mind that it is aided by the fact that sales in the upper East Coast, Midwest and Texas were hampered by weather last February," said John Humphrey, senior vice president of the global automotive practice at J.D. Power.
Humphrey has a point, but let's not fail to appreciate what a 13.9 million retail sales SAAR means. After all, it's way higher than the 12.8 million units February 2015 had to its name. It's also the best February retail SAAR in 14 years. So it's nothing to shake a stick at. Just the opposite – it confirms how robust the first couple months of 2016 have been.
"Thus far, 2016 is off to the races, with February looking to keep the selling rate in line with expectations. Consumers seem to be shrugging off the volatility in the stock market and higher interest rates. Very low fuel prices and many new vehicles in showrooms should help drive another strong year for auto sales," said Jeff Schuster, senior vice president of forecasting at LMC Automotive.
Diesel cars see their popularity wane
It's a rough time for diesel-powered cars. According to The Wall Street Journal, automakers sold just 222 such vehicles in January. Yes, you read that correctly. In a country where thousands upon thousands of cars are sold every day, diesel car sales barely topped a couple hundred in an entire month.
To make the disparity even more revealing, automakers reported selling between 4,800 and 9,500 diesel cars every month in 2015 until the Volkswagen AG emissions scandal broke. Needless to say, that's a tall peak to fall from. No doubt the landing was unpleasant.
"Diesel had begun to catch on as fuel-efficient alternative to gasoline, but that has come to a halt."
Diesel had begun to catch on as a viable and fuel-efficient alternative to gasoline. Drivers loved the idea of clean-burning fuel without any sacrifice of performance. However, Volkswagen, one of the most trusted automakers in the country, got caught up in their recent scandal – throwing a wrench into the growing diesel embrace.
Automakers are like the car insurance companies that cover their vehicles. Drivers grow to trust them, and both parties work to make that trust stronger. A customer who has researched to compare car insurance quotes doesn't suddenly want to learn their premiums were misleading in the same way a driver doesn't want to learn their eco-friendly engine isn't so eco-friendly.
Volkswagen has a long road to redemption ahead of them. It's going to take time to regain the trust of American drivers. In the meantime, low gas prices have good old gasoline-powered cars – SUVs in particular – absolutely thriving.[/vc_column_text][/vc_column][/vc_row]