6 Texas-area candy shops that will satisfy your sweet tooth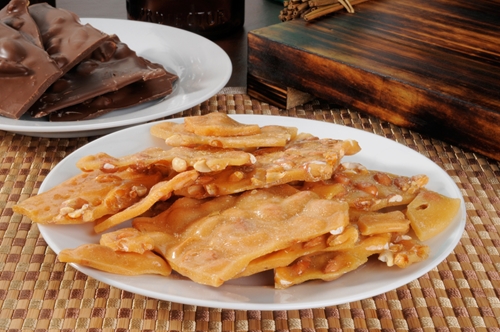 Summer is filled with sweet surprises, and in June, perhaps the most satisfying of them all is candy.
That's right, June was National Candy Month, and there's no two (milky) ways about it: Americans love their sugary sensations. Chocolate alone is a $14.5 billion industry in the U.S., according to government data, and an estimated 1,200 companies from coast to coast churn delicious morsels out on daily basis to satisfy chocoholics​' collective sweet teeth. And when it comes to candy as a whole, Americans indulge two times per week on average, according to the National Confectioners Association.
But when you're in Texas – a state where everything is bigger and better – M&M's, Three Musketeers, or Kit Kat bars often don't cut it. The following are some of the best places to frequent when you have a hankering for a sweet treat that you can't get buy at your local convenience store.
Tyler Candy
Deep in the heart of Tyler, you'll find the Tyler Candy Company, an institution that's been producing some of the Lone Star State's finest flavor-filled surprises since it opened way back in 1949. In the glorious recesses of Tyler Candy's kitchen and manufacturing facilities, the deliciousness is overflowing, pumping out a plethora of P's, including peanut patties, peppermint sticks, peanut brittle, and pecan logs. If you're based in Dallas, the ride to Tyler Candy will take a good hour and a half. If 90 minutes is too lengthy of a trip, you can have Tyler's hand-crafted goodness shipped to you.
Lammes Candies
If Tyler Candy Company is a Tyler institution, Lammes Candies is an Austin academy, stationed in the Lone Star State's capital city since 1885. The 19th-century candy shop has relocated from time to time, but it's never ventured from its Austin home. Perhaps the only thing more impressive than Lammes' staying power is its assortment of confectionery temptations. None is more popular than "The Texas Chewie," which the company touts as its best-selling product by far, producing over 2,000 pounds worth daily. The signature ingredients of the Texas Chewie include locally grown pecans, caramel, and of course sugar. Some of Lammes' other Texas-themed chocolates include Longhorns – both in milk chocolate and dark – Dark Choc'Adillos, and Cashew Critters.
The Great Texas Pecan Candy Company
Whenever a company throws a term like "great" into its title, you can't help but set your expectations high. Few can deny that the Great Texas Pecan Candy Company more than meets the bar. Located in both Katy and Gruene​, this candy shop specializes in the pecan, as just about every one of its products features pecan as its main ingredient, including their chewy pralines,chocolate-dipped chewy pralines, Poppin' Pecan, and pecan brittle. At its Katy locale, however, several alternative desserts like cheesecake, chocolate trifle, key lime pie, cake balls, and German chocolate cake are available.
Bliss Candy Company
The Bliss Candy Company may not have the veteran status that some of its competitors do – first opening its doors in Brenham​ on South Market Street in 2006 – but you'd think the company had centuries of experience based on the utter deliciousness of their delectables. That may be because the company's owners, Sammy and Cynthia Timpa, derive their recipes from long-established family baking secrets that have been handed down over the years. Though headquartered in Brenham, you can find Bliss' candies in stores throughout the Lone Star State, including Houston, Fort Worth, Cypress, and Tomball. Once you crunch into Bliss' white chocolate mocha toffee, you'll understand why the company's tagline is "Simply Blissious!"
Island Candy Company
"Melt in your mouth" goodness is most definitely a description that whets the appetite, and at Island Candy Company, which sells cotton candy, you can take that term quite literally. Both bagged and made to order, the cotton candy from Island Candy Company – located in Spring – specializes in the old-familiar amusement park must-have, offering several flavor options, including blue raspberry, purple grape, lemon, banana, and pina colada. It even has a cotton candy that uses Pop Rocks called Rockin' Poppin' Cotton.
Woody Candy (Bonus!)
Headed for the Sooner State while on vacation this summer? Then you'll definitely want to pop into Woody Candy. From turtles to toffees, brittles to pralines, each and every sugar-fueled sensation at Woody is made from scratch, using only the finest of ingredients. Located in the heart of Oklahoma City, Woody is Oklahoma's oldest family-owned candy company, founded in 1927 by Claude and Lucille Woody. While its name and recipes are the same, the company came under new management in 2014, though it's still family-owned. Woody Candy Company sells online, but if you're in the area, try to stop by, as in-store exclusives will make the trip worthwhile.
Was this article helpful?