Move over, Hollywood: Car sales 'fast and furious'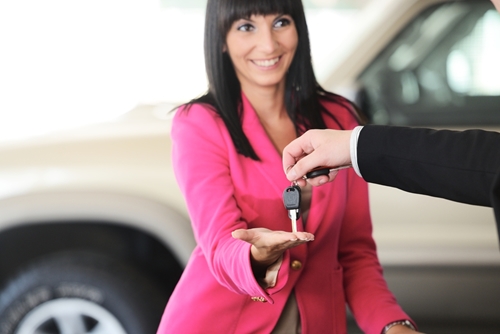 Only a few months ago, 2015 wrapped up as the one of the auto industry's finest, selling more than 17 million vehicles across the country – a new record. Three months into 2016, and the pace of sales could leave last year in the dust. However, there are some flashing signs that suggest car sales on the year may come up just a bit short of being another checkered flag record-breaker.
In March, preliminary numbers indicate new-vehicle sales rose 8% on a year-over-year basis to 1.6 million purchases, according to vehicle valuation firm Kelley Blue Book. On a seasonally adjusted annual basis, that equates to 17.2 million.
In year-to-date estimates, the 1.6 million figure brings 2016 sales to 4.1 million, approximately 5% more than how many new cars were bought and sold in 2015. That's the second-best first quarter in history, rivaling 2000's initial three-month period.
However, there were a few differences in March of this year versus last that may have played a role in the month's strong performance. For example, the 2016 version had 27 selling days versus 25 in 2015. As a result, on a selling-day adjusted basis, new-vehicle retail sales last month was 2% lower year-over-year, according to sales forecasting estimates from J.D. Power and Associates.
Sales momentum remains strong
Length of the month aside, Tim Fleming, a Kelley Blue Book analyst, said that March's numbers were truly impressive. At the same time, though, there are indications that demand could cool off just as the temperatures warm up with summer approaching.
"The industry continues to maintain its momentum in March as we expect the highest volume of any month in more than 10 years," Fleming explained. "However, we continue to follow indicators that demand for new cars is weakening, while there is increased incentive spending and an increasing share of fleet sales."
Deirdre Borrego, Senior Vice President and General Manager of Automotive data and Analytics at J.D. Power, indicated that incentives have been heavily promoted by dealers.
"Sales are being supported by a number of factors, including incentives, elevated leasing and long-term loans," Borrego noted. "While these factors are delivering benefits to the industry by enabling record revenues, we need to be mindful of the risk they pose to the long-term health of the industry."
Consumer spending to reach $40 billion
Buoying the automotive sector's well-being are transaction prices. The typical retail sales price for passenger vehicles in March was $30,800, J.D. Power reported. Consumer spending for the 31-day period, as a result, is anticipated to be north of $40 million – a high that's never been reached during the third month of the year before.
It seems that the closing days of March made up for its first half, as retail sales through the first 15 days dropped 13% compared to the stretch in 2015, the report said.
Jeff Schuster, Senior Vice President for Forecasting at LMC Automotive, said that despite the subtle signs of softness, things could really get rolling again based on history.
"Auto sales are not yet peaking and the outlook for the year remains robust," Schuster highlighted. "In fact, year-to-date volume is still nearly 5% ahead of year-to-date March 2015, leaving some room for additional volatility and the expected slower growth rates later in the year."
As the old saying goes, time will tell.